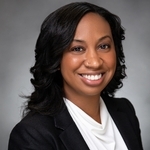 (716) 534-8495

(716) 208-0316 cell phone

sbaxter@mmbhomesellers.com
651 Delaware Ave.
Buffalo NY, 14202
Receive Email Alerts from Me
Sharonnda Baxter is a native of the Buffalo area. A graduate of Buffalo State College for Fashion and Textile Technology, then attending D'Youville College for Occupational Therapy where she obtained her master's degree.
Ever the entrepreneur, She first developed a passion for real estate through buying and selling properties on her own. By flipping homes at an early age, she built her skills and knowledge of property management, while servicing several clients throughout the years.
Her versatility working with potential buyers and sellers, while being employed as a full-time health care practitioner, demonstrates her commitment to providing exceptional service and an ability to build trust with her clients.
Sharonnda considers herself a "life-long learner" and continues studying current market conditions, industry guidelines, and the latest tools & technologies to provide her clients with the best possible service and support. Her passion, honesty, positive attitude, and love of learning have made her an invaluable member of MMB Realty. When she's not working, you're likely to find her trying a new restaurant in Buffalo, bike riding, or spending time with family & friends
Sharonnda Baxter 's Listings
3
Beds
2
Baths
1,948
SqFt
Listing Provided Courtesy of MootryMurphy&BurginRealtyGroup
4
Beds
2
Baths
2,041
SqFt
Listing Provided Courtesy of Keller WilliamsRealtyLancaster
3
Beds
2
Baths
1,736
SqFt
Listing Provided Courtesy of Howard Hanna
3
Beds
1 | 1
Baths
1,550
SqFt
Listing Provided Courtesy of Keller Williams Realty Greater Rochester West
4
Beds
1 | 1
Baths
1,743
SqFt
Listing Provided Courtesy of CAAAP Realty
4
Beds
2
Baths
1,606
SqFt
Listing Provided Courtesy of MootryMurphy&BurginRealtyGroup
3
Beds
2
Baths
1,516
SqFt
Listing Provided Courtesy of Hunt Real Estate ERA
3
Beds
1
Baths
1,492
SqFt
Listing Provided Courtesy of Gurney Becker & Bourne
3
Beds
1 | 1
Baths
1,048
SqFt
Listing Provided Courtesy of Howard Hanna
4
Beds
1
Baths
1,297
SqFt
Listing Provided Courtesy of Keller Williams Realty WNY
Listing Provided Courtesy of Howard Hanna